1 April 2011 at 11:28am
Well ladies and gentlemen, it is true, Epic's DO exist!!
Here is, I believe, the first report of an Epic card from the series.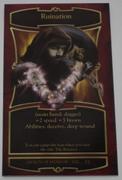 As you can see, it is another gorgeous picture (the image I took just doesn't do the card justice), and has some fantastic abilities:
The card details are:
Ruination
(main hand: dagger)
+2 speed +5 brawn
Abilities: deceive, deep wound
You can equip this item when you earn the title "The Betrayer"
LEGION OF SHADOW / EPIC 8/8
So, I now have cards 1, 2, 3 (Common), 4, 5, 6 (Rare) & 8 (Epic). Just missing Epic #7